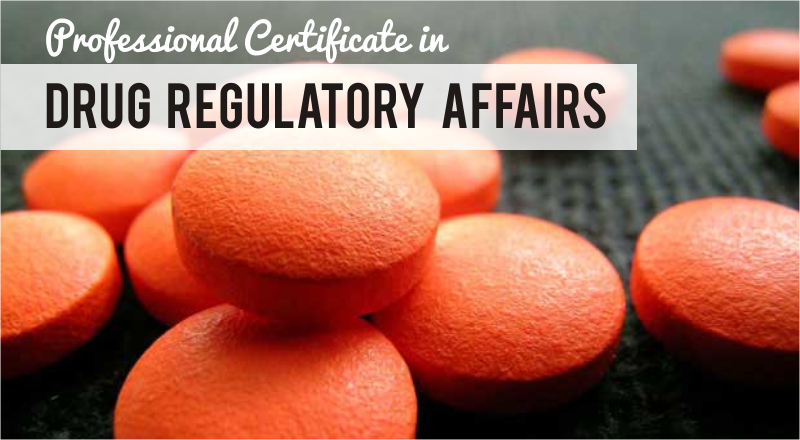 PC103: Professional Certificate
in Drug Regulatory Affairs
---
To learn the role and scope of regulatory authorities, their requirements, applicable ICH guidelines etc.
About this course
Drug Regulatory Affairs domain is the result of the desire of governments to protect public health by controlling the safety and efficacy of products in areas including pharmaceuticals, veterinary medicines, medical devices, pesticides, agrochemicals, cosmetics and complementary medicines. The global outsourcing market of regulatory affairs is expected to grow at a CAGR of 14.6 till 2020 and the market is expected to reach $ 4.5B by then. The course Professional Certificate in Drug Regulatory Affairs (PCDRA) enable learners to take in-depth knowledge of applicable global regulatory authorities and reporting requirement, medical device regulation, roles, and responsibilities. The course The course PCDRA would enable you to excel your career as Drug Regulatory Associate or Executive.

Who Should Take This Course?
DRA Professionals
Aspirants (students/ working professionals) from following health science background: Pharmacy, Medicine, Dental, Nursing, Public Health, Life-Science, Physiotherapist, Traditional/ Alternative Medicine etc.
What am I going to get from this course?
5 high-quality learning modules with an online exam.
In-depth knowledge on Global Regulatory Authorities.
Learn Regulatory Requirements in Pharmaceutical.
Learn Medical Device Regulation with ICH Guidelines.
Learn roles and responsibilities of DRA Personnel.
Certificate and Performance Card on successful completion.
Opportunity to explore your career as Drug Regulatory Associate.
Module 1: Introduction to Drug Regulatory Affairs (Evolution, Roles and Responsibilities and Scope)
Module 2: Regulatory Authorities – USFDA, Canadian, EU, CDSCO, ICH, WHO
Module 3: Regulatory Requirements in Pharmaceutical (Drug Product Lifecycle – Development, Regulatory Submission, Regulatory Compliance etc.)
Module 4: Medical Device Regulation – Definition and Classification, Steps in Development, Product Lifecycle
Module 5: Overview of ICH Guidelines (Stability Testing of New Drug Substances and Products, Stability Testing : Photostability Testing of New Drug Substances and Products, Stability Testing for New Dosage Forms, Bracketing and Matrixing Designs for Stability Testing of New Drug Substances and Products, Evaluation of Stability Data, Stability Data Package for Registration Applications in Climatic Zones III and IV, Analytical Validation, Impurities Guidelines, Specifications Guidelines, Good Manufacturing practice Guidelines)
Assessment through Online Exam
Manish Mathur

"Excellent course with easy methodology"
Dean Moon
"Elaborated and well-conceptualized course"  
Kane Williams
"Thanks to trainers, who promptly responded to my queries"
Rajeeb Vignesh
"Indeed one of the best course in Drug Regulatory Affairs. I am very hopeful that it would be very helpful to accelerate my career growth"
Ashish Gupta
"DRA course helped me understanding the basics and applying into my role"
What will be the mode of learning and do I need to visit anywhere to take this course? The mode of learning is completely online and you are not required visit anywhere to take this course. You can easily learn and complete this course from your location. You should have a device (laptop/ desktop) with internet connect.
How will you deliver the course modules? You simply need to log in with the Username and Password at our Online Moodle Portal to start learning. The access will be granted to you via email within 24 hrs. of fee payment.
I am a student at present; can I take this course along with my studies? Yes, you can take this course along with your regular studies.
Is there any specific timing to take the course modules? We have made it very convenient for you. All the course modules are pre-loaded on the website, so you can learn the modules as per your convenient timings.
How will you conduct the exams? Exams will be online. Once you are through with course modules and want to take examination, you just need to drop a request mail at info@dnasysacademy.com Request to take the online exam can be sent at any time.
When will I receive the Certificate and Performance Card? Once you attempt and submit your online exam for evaluation, we generally take 7 business days to evaluate and issue Certificate of Completion along with Performance Card
How will you send the Certificate of Completion? The Certificate would be issued through email upon successful completion. The issued certificate would be print-ready but if you wish to receive a hard copy of Certificate then a minimal charge towards processing, printing and courier would be applicable.
How to enroll and pay the fee? To enroll, you simply need to view the link HOW TO ENROLL.
Can I pay the fee in installments? Yes, you can pay the fee in maximum 3 installments. To pay the fee in installments, you need to contact us at info@dnasysacademy.com
What is money back guarantee? If a student is unable to complete the course successfully, then course fee (excluding the processing fee of USD 5) will be transferred back in their account within 30 days. The guarantee is void:
After 50 days of enrollment.
Not attempting the exams or any section of exam
Not following the instructions properly
Attempt exam without reading the complete course modules
Provides incorrect enrollment details
You can also view our FAQs page for further queries.
Includes: LifeTime Access Money Back Guarantee