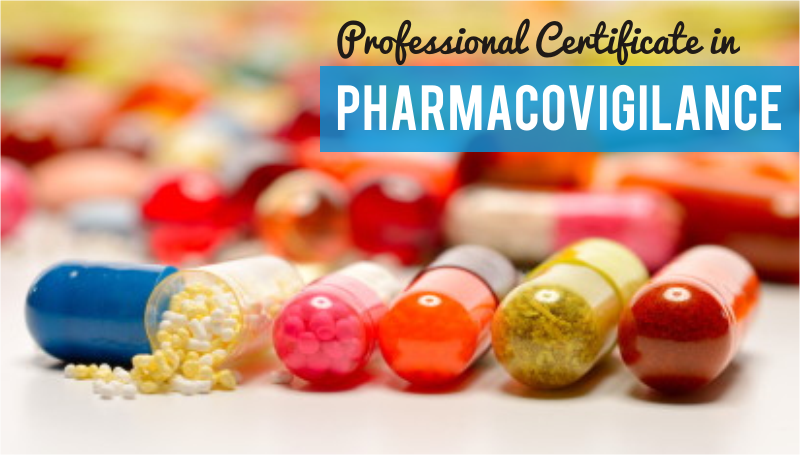 PC102: Professional Certificate 
in Pharmacovigilance
---
To learn the applicable international guidelines, reporting procedures, reporting forms, reports etc.
About this course
Pharmacovigilance is detection, assessment, understanding, and prevention of adverse effects, particularly long term and short term side effects of the therapeutic drugs, devices, and biologics. Due to the globalization of healthcare and pharmaceutical industry, there are universal guidelines and standards to govern it. So, adoption of a systematic Pharmacovigilance framework worldwide requires a large number of trained professional in this domain.
The online course Professional Certificate in Pharmacovigilance (PCPhV) enable learners to take an in-depth knowledge of applicable global governing guidelines, AE reporting forms and procedure, reports and reviews etc. You can view the Curriculum Tab for more details. This course would provide you the required knowledge and thereby enable you to excel your career in this industry as a Drug Safety Associate or Pharmacovigilance Associate with Pharmaceuticals/ Biotech Cos., Research Cos., IT firms, CROs, Hospitals, PV Centers, SMOs, KPOs etc.
Who Should Take This Course?
Pharmacovigilance Professionals
Aspirants (students/ working professionals) from following health science background: Pharmacy, Medicine, Dental, Nursing, Public Health, Life-Science, Physiotherapist, Traditional/ Alternative Medicine etc.
What am I going to get from this course?
10 high-quality learning modules with an online exam.
In-depth knowledge of global governing guidelines.
Understanding different Adverse Events (AE) reporting forms.
Learn various AE Reporting Procedures.
Certificate and Performance Card on successful completion.
Opportunity to explore your career in Pharmacovigilance Industry.
Module 1:
Introduction to Pharmacovigilance
Module 2: Global Perspective of Pharmacovigilance and Adverse Drug Reaction (ADR) Reporting
Module 3: Guidelines and Standards Governing Pharmacovigilance
Module 4: Global AE Reporting System and Reporting Forms
Module 5: Individual Case Safety Reports (ICSRs)
Module 6: Public Safety Update Reports (PSURs)
Module 7: Signal Detection
Module 8: Medical Dictionary for Drug Regulatory Activities (MedDRA)
Module 9: Expedited Reporting & Requirements
Module 10: Pharmacovigilance Inspections
Pharmacovigilance Terminology
Assessment through Online Exam
Saurabh Dixit

"I am completely satisfied after completing PCPhV courses. This certificate course covers all the essential concepts"
Robert Sherman
"This course was very informative and comprehensive. I thoroughly enjoyed the course material"  
Dr Gunjan C
"An excellent online course with 10 modules. I highly recommend DNASYS Academy for healthcare students to certify themselves in Pharmacovigilance field"  
R Rasheed
"Had a wonderful experience after enrolling in Clinical Research with Pharmacovigilance combined certificate. Special thanks to trainer Dr Prashant Agarwal for extending my timelines to complete the course examination"  
Ankur Mehta
"The team has really put in efforts to create course modules"
What will be the mode of learning and do I need to visit anywhere to take this course?
The mode of learning is completely online and you are not required visit anywhere to take this course. You can easily learn and complete this course from your location. You should have a device (laptop/ desktop) with internet connect.
How will you deliver the course modules?
You simply need to log in with the Username and Password at our Online Moodle Portal to start learning. The access will be granted to you via email within 24 hrs. of fee payment.
I am a student at present; can I take this course along with my studies?
Yes, you can take this course along with your regular studies.
Is there any specific timing to take the course modules?
We have made it very convenient for you. All the course modules are pre-loaded on the website, so you can learn the modules as per your convenient timings.
How will you conduct the exams?
Exams will be online. Once you are through with course modules and want to take examination, you just need to drop a request mail at info@dnasysacademy.com Request to take the online exam can be sent at any time.
When will I receive the Certificate and Performance Card?
Once you attempt and submit your online exam for evaluation, we generally take 7 business days to evaluate and issue Certificate of Completion along with Performance Card
How will you send the Certificate of Completion?
The Certificate would be issued through email upon successful completion. The issued certificate would be print-ready but if you wish to receive a hard copy of Certificate then a minimal charge towards processing, printing and courier would be applicable.
How to enroll and pay the fee?
To enroll, you simply need to view the link HOW TO ENROLL.
Can I pay the fee in installments?
Yes, you can pay the fee in maximum 3 installments. To pay the fee in installments, you need to contact us at info@dnasysacademy.com
What is money back guarantee?
If a student is unable to complete the course successfully, then course fee (excluding the processing fee of USD 5) will be transferred back in their account within 30 days. The guarantee is void:
After 50 days of enrollment.
Not attempting the exams or any section of exam
Not following the instructions properly
Attempt exam without reading the complete course modules
Provides incorrect enrollment details
You can also view our FAQs page for further queries.
Includes: LifeTime Access Money Back Guarantee