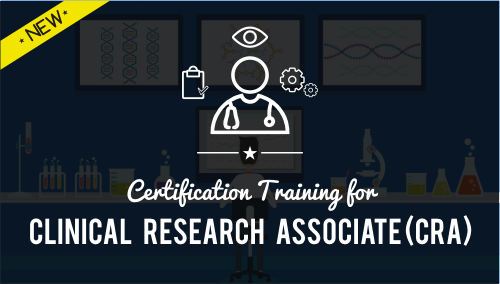 CT102: Certification Training for
Clinical Research Associate
---
To impart an in-depth training and skills on specialized job functions of a Clinical Research Associate (CRA).
$175  $225   $50 Discount
Starts 30th April 2019
Early Bird Offer Until 20th Apr'19
About Clinical Research Associate Certificate
Presently, ClinicalTrial.gov lists out 200,000+ clinical trials worldwide and the data shows that there has been a significant rise in global clinical trials by sponsors over the past one decade. Due to globalization, the complexity of generating quality and meaningful data has also increased.
Since the success of a clinical trial largely depends on the quality of clinical trial data generated, a Clinical Research Associate (CRA) has the prime responsibility to monitor it.
"A Clinical Research Associate (CRA), also called as Clinical Trial Monitor is a health-care professional who is primarily responsible for monitoring, coordinating, supervising and managing the overall progress of a clinical trial in a GCP compliant fashion."
The online course "Certification Training for Clinical Research Associate (CTCRA)" would provide you an in-depth knowledge on all the roles and responsibilities undertaken by a CRA.

Who Should Take This Course?

Clinical Research Professionals
Aspirants (students/ working professionals) from the following health science background: Pharmacy, Medicine, Dental, Nursing, Public Health, Life-Science, Physiotherapist, Traditional/ Alternative Medicine etc.
What am I going to get from this course?
15 high-quality learning modules with an online exam.
In-depth knowledge in applicable guidelines
Learn clinical trial study process
Learn detailed roles and responsibilities of clinical research associate (CRA)
Hands-on-Training via mock clinical trial documents
Certificate and Performance Card on successful completion
Opportunity to explore your career in Clinical Research Operations as CRA.
Module 1:
Introduction to Clinical Research
Module 2: Evolution of Ethical Research principals, Regulations and Guidelines
Module 3: Essential Clinical Trial Documents
Module 4: Investigator Site Selection and Assessment
Module 5: Development of Monitoring Plan
Module 6: Site Initiation, Review of Trial Documents & Delegation of Duties at Individual Site
Module 7: Clinical Trial Monitoring
Module 8: Inventory Planning and Tracking
Module 9: Source Document Verification (SDV)
Module 10: CRF Review, Collection & Coordination of Data Management Activities
Module 11: Serious Adverse Event (SAE) Review & Regulatory Compliance
Module 12: Investigational Product (IP) Accountability & Management
Module 13: Escalation, Prevention & Management of Violation/ Deviations
Module 14: Tracking of Enrolments, Payments & Ongoing Correspondence
Module 15: Site Closure
Clinical Trials Terminology
Online Assessment through Hands-on training component via mock clinical trial documents
What is the mode of learning and do I need to visit anywhere to take this course?
The mode of learning is completely online and you are not to required visit anywhere to take this course. You can easily learn and complete this course from your location. You should have a device (laptop/ desktop) with an internet connection.
How will you deliver the course modules?
You simply need to log in with your Username and Password at our LMS Portal to start with. The access will be granted to you via email before Course Start Date.
I am a student at present; can I take this course along with my studies?
Yes, you are eligible to this course along with your regular studies.
Is there any specific timing to take the course modules?
We have made it very convenient for you. All the course modules are pre-loaded on our website, so you can learn the modules as per your convenient timings.
When will I receive the Certificate and Performance Card?
Once you attempt and submit your online exam for evaluation, we generally take 14 working days to evaluate and issue Certificate of Completion along with Performance Card via email.
How will you send the Certificate of Completion?
The Certificate would be issued through email upon successful completion. The issued certificate would be print-ready but if you wish to receive a hard copy of Certificate then a minimal charge towards processing, printing and courier would be applicable.
How to enroll and pay the fee?
To enroll, you simply need to view the link HOW TO ENROLL.
Can I pay the fee in installments?
Yes, you can pay the fee in maximum 3 installments. To pay the fee in installments, you need to contact us at admin@dnasysacademy.com
What is money back guarantee?
If a student is unable to complete the course successfully, then course fee (excluding the processing fee of USD 5) will be transferred back in their account within 30 days.
The guarantee is void:
After 50 days of enrollment.
Not attempting the exams or any section of exam
Not following the instructions properly
Attempt exam without reading the complete course modules
Provides incorrect enrollment details
You can also view our FAQs page for further queries.
Includes: LifeTime Access Money Back Guarantee
Ekpereka Nawfal
SCSU, USA
"It was well put together. Excellent job!"

Grace Zimmerman
Coordinator, University of Rochester, USA
"Course was a great overview of what was expected of a clinical research. I learned a lot."

"Useful course for clinical research professionals. "

Carmelina Marin Caballero
Research Medical Assistant, USA
"A very good course for clinical research professionals."

John Shou
Baylor College of Medicine, USA

Marianna Giannini
Data Manager, ASL Toscana Nord Ovest, Italy
"Very Good, I enjoyed the exam!."