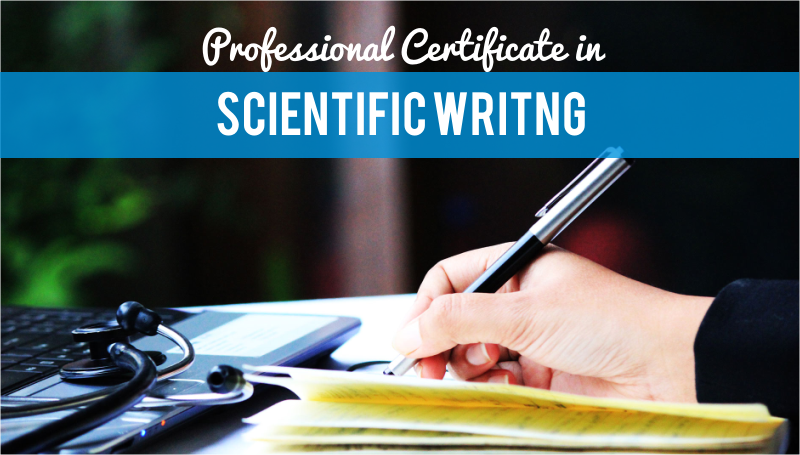 PC105: Professional Certificate
in Scientific Writing
---
To learn the applicable guidelines and process to create essential clinical trial documents.
About this course
In the last 5 years medical/ scientific writing industry has grown at the rate of 15% to a staggering US $700M. As a result, large numbers of scientific writing activities are outsourced to create essential clinical trial documents. The online course Professional Certificate in Scientific Writing (PCSW) enable learners to take in-depth knowledge on the process of developing essential clinical study documents (SOPs, Protocol, CRF, ICD, Reports etc.) This course would enable you to excel your career in this industry as a scientific or medical writer with Sponsor, CROs or as a freelancer.

Who Should Take This Course?
Clinical Research Professionals
Aspirants (students/ working professionals) from following health science background: Pharmacy, Medicine, Dental, Nursing, Public Health, Life-Science, Physiotherapist, Traditional/ Alternative Medicine etc.
What am I going to get from this course?
12 high-quality learning modules with an online exam.
Knowledge on the basics of scientific writing and essential clinical trial documents.
Understanding process of developing study documents (SOPs, Protocol, CRF, ICD, Reports etc.)
Certificate and Performance Card on successful completion.
Opportunity to explore your career as a scientific/ medical writer.
Module 1: Introduction to Clinical Research
Module 2: Evolution of Ethical Research Principals, Regulations and Guidelines
Module 3: Clinical Study Process
Module 4: Introduction to Scientific Writing
Module 5: Essential Clinical Trial Document
Module 6: Development of Standard Operating Procedure
Module 7: Developing Clinical Trial Protocol
Module 8: Developing Informed Consent Document
Module 9: Developing Case Report Form
Module 10: Developing Data Management Plan
Module 11: Developing Clinical Study Report
Module 12: Publication
Assessment through Online Exam
Kuldeep

"Great to have this course"
L Cameron
"Unique course to learn to develop trial documents from scratch"  
Melisa Barun
"Really informative and one of its kind course"
Kirran
"Very good course, direct to the point. Read the material twice and solve the online exams"
Mathew D
"Good short term course on clinical trial document creating for fresher like me in this industry"
What will be the mode of learning and do I need to visit anywhere to take this course? The mode of learning is completely online and you are not required visit anywhere to take this course. You can easily learn and complete this course from your location. You should have a device (laptop/ desktop) with internet connect.
How will you deliver the course modules? You simply need to log in with the Username and Password at our Online Moodle Portal to start learning. The access will be granted to you via email within 24 hrs. of fee payment.
I am a student at present; can I take this course along with my studies? Yes, you can take this course along with your regular studies.
Is there any specific timing to take the course modules? We have made it very convenient for you. All the course modules are pre-loaded on the website, so you can learn the modules as per your convenient timings.
How will you conduct the exams? Exams will be online. Once you are through with course modules and want to take examination, you just need to drop a request mail at info@dnasysacademy.com Request to take the online exam can be sent at any time.
When will I receive the Certificate and Performance Card? Once you attempt and submit your online exam for evaluation, we generally take 7 business days to evaluate and issue Certificate of Completion along with Performance Card
How will you send the Certificate of Completion? The Certificate would be issued through email upon successful completion. The issued certificate would be print-ready but if you wish to receive a hard copy of Certificate then a minimal charge towards processing, printing and courier would be applicable.
How to enroll and pay the fee? To enroll, you simply need to view the link HOW TO ENROLL.
Can I pay the fee in installments? Yes, you can pay the fee in maximum 3 installments. To pay the fee in installments, you need to contact us at info@dnasysacademy.com
What is money back guarantee? If a student is unable to complete the course successfully, then course fee (excluding the processing fee of USD 5) will be transferred back in their account within 30 days. The guarantee is void:
After 50 days of enrollment.
Not attempting the exams or any section of exam
Not following the instructions properly
Attempt exam without reading the complete course modules
Provides incorrect enrollment details
You can also view our FAQs page for further queries.
Includes: LifeTime Access Money Back Guarantee